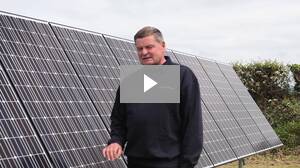 I made this film for Cornishrocker.com– A local company who needed a short film for their website ready in 48 hrs  for the Royal Cornwall show. I was pleased to get the message across easily. We didn't have the best weather but the sun shone for a short while and we had fun getting all the facets of the message across.
Embedding a short film
This video uses Wistia, a video hosting service that has high quality and good SEO, there is a small addition to the cost as opposed to YouTube but they have a very good selection of embedding capabilities and an enhanced SEO package to really get you noticed. This embed is called an overpop, so that the film can be seen in a large format but does not take away from the text on the page. Very useful when your film is intrinsic but need not take up full page width.
Wistia like Vimeo has the ability to add a link on the ending frame of the film. In this way a call to action can be included that can link to your contact page or your website if you aim to embed on social media. For sales based websites this can be when you can really use a film to your advantage. Well worth thinking about is how you are going to finish your film and where you want your viewers to be taken.
For this short film the client had both bullet points and the text he wanted to get across printed with him. It was really useful to have the message put across free form, but also knowing we were following the written text. I took a second take of the full message, and in this way I was able to edit any mistakes out of the sequences.
By having a clear direction I was able to keep my time to a minimum. The edit ran relatively smoothly and the client was able to have his film embedded on his site for the opening morning of the show. Fast, professional and affordable.
If you are interested in using me for a short film, please get in contact.